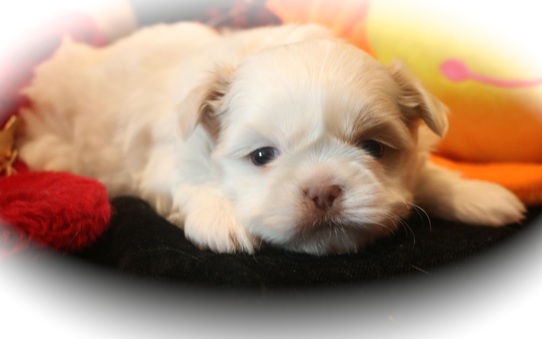 Shih Tzu Puppies
Donna@donnaspuppies.com 661-303-8825
Please no calls or texts after 9pm. I answer all e-mail, so if you don't hear back from me please contact again. Or call me.If you call followup with an email.
---
Note: new litter just born 1-7-18, 2 females, black/w and gold/w, 2 males Gold/w and solid white. Pics coming soon.
​
​
​ Below: New pictures taken on 1-15-17 All puppies will be ready to go at 8 weeks on 1-22-18

#1 Male (born 11-27-17ready to go 1-22-18 at 8 weeks) Cream/Lavender/Liver $1200.00, new pics as of 12-27 AVAILABLE, can't believe he is not sold yet, most gorgeous puppy ever.
#2 Female Chocolate, (born 12-27-17) $1200. SOLD to Sonia
#3 Male light Chocolate (born 12-29-17) Dobie markings but may fade. $1200.00 SOLD to Brad
#4 Female gold/w born 1-7-18. $1200.00 AVAILABLE.
#5 Female black/w born 1-7-18. $1200.00 AVAILABLE
#6 Male white/w some cream color, born 1-7-18. $1,000. AVAILABLE
#7 Male gold/w possible choice/w have to wait to see nose color. born 1-7-18 $1,000. AVAILABLE